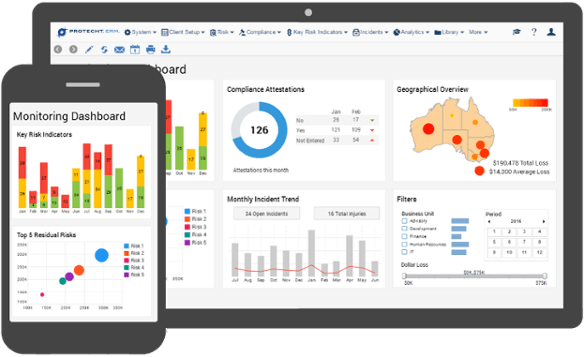 Take control of your Enterprise Governance, Risk and Compliance.
Flexible GRC software that suits your methodology
Protecht.ERM is a full-function GRC solution that is configurable to meet your methodology's requirements.
Protecht.ERM allows you to focus more time and resources on improving your bottom line, handling much of the routine work involved in managing risk, regulatory compliance, detailed stakeholder reporting and incidents/events.
Flexible form creations allows you to manage risk, WHS, incidents, complaints, business continuity and more.
Manage data
Consistent terminology with central libraries
Multi-dimensional tags across modules
Data view and entry on mobile/tablet/desktop
Embedded LexisNexis compliance obligations
Automate tasks
Escalation of exceptions through workflows
Data migration with import/export
Bulk system update
Send questions and aggregate responses
Enhance user experience
Integrated Risk Analytics
Customisable registers/forms
Dynamic conditional fields
APIs/Web Services
The implementation service includes installation, user training, help desk support and all future software upgrades.
Scalable risk management software that grows with you
Protecht.ERM is suitable for organisations at any stage of risk maturity. Our software comes bundled with all the modules below so you can tailor the service to suit your risk management framework, organisation structure and policies.